When it comes to building a brand or rebranding, one of the most challenging aspects is capturing the essence of a brand in its distilled form.
When it comes to effectively communicating what your company is all about, there's a lot more involved than you may think. It's more than just the logo, typography and web design.
Most people only skim the content they read online, making visuals one of the most important aspects to grabbing your viewers' attention. Brand photography is an essential factor representing your visual identity and helps your web design, logo and colours come together as a complete package. Each element should work together harmoniously to showcase your business in the best possible light.
We know that brand photography can be challenging to get right initially, so don't worry! We'll be discussing all things brand photography, including personal branding photography.
We offer professional corporate photography as one of our services. Whether it's capturing your products, services, or employees, we'll help you build up a collection of amazing brand photographs. Get in touch today!
What is branding photography?
When it comes to branding photography, the photographer's role is to visually encapsulate your company's ethos.
Brand photography can include guidelines for the imagery needed and usually also includes all the pictures used on your marketing materials—including your website, product or service images, staff headshots, behind-the-scenes imagery and so much more.
It is essential to ensure that every brand photo you put out there is unique and matches your brand personality. Remember that you also need to stand out from your competitors, so you need to find a visual way to consistently represent your brand at its best.
Branding photography also gives you a chance to define your brand in a new, visual way that colours and logos simply can't. 
What is personal branding photography?
Personal branding photography refers to images representing professional people – such as entrepreneurs, freelancers and many other business owners. A personal branding photographer is essentially a portrait photographer skilled in capturing professional images of people that help them stand out.
Additionally, personal branding photography fits specific visual identities through how colours, props, tones and styles feel in each image.
Your customers are interested in brand stories and narratives more than ever before. By putting a professional brand photo forward, you'll draw their attention and show them your values as a business owner.
While it may seem daunting to get in front of the camera, the final result of creating a brand presence that helps you stand out is critical. Personal branding photography can really help your business gain genuine brand authenticity and buy-in from your audience.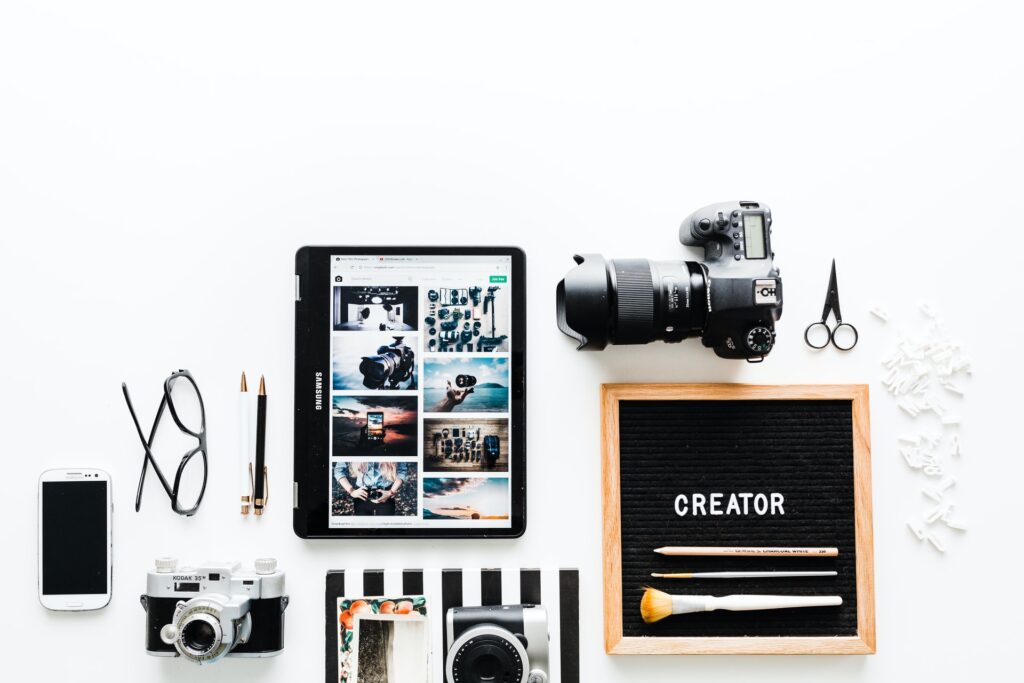 Best practices in brand photography
There are many different ways to do brand photography that might be beneficial for your business.
Whether you opt for personal branding photography or something a bit different, there are methods for success that you can't skip.
It's key to establish a few key elements that you should follow to ensure you are putting up a professional image at all times, such as:
It would help if you defined your brand goals. What is your mission with your brand images? It's wise to establish what you want your brand photos to achieve and how you can best reflect this. Choose a few aspirational images that you like and create a mood board for your branding photographer or professional brand photographer to use.
You should decide on content. Choosing the content and context of your images can tell people a lot about your brand's ambience, mood and area of expertise. Whether you want more corporate imagery or want your brand to be known as quirky and relatable, it's up to you to set some rules for the image's composition. These are subject to change, so don't worry too much at first – you can constantly adjust as you find styles you like.
Don't forget about composition. It is essential to establish rules in design to ensure a consistent brand image. It would be best if you outlined both things that you would like and something that you do not. If you don't want stark product images but want to see people using your product, it's good to set this as an initial guideline. You may also ask for a clean appearance that allows you to include your logo if needed. It helps to have branding guidelines set out beforehand.
Choose the most appropriate tone and palette. It can be challenging to maintain consistent colour choices if you are inexperienced in brand photography. Choosing a reputable photographer is the best choice, as you want your images to evoke a specific mood and feeling every time they are seen. Remember that different colours and tones will elicit very different things to your audience. Choosing a few key tones works well with a minimalist product. In contrast, bright colours reflect joy, excitement, and a fun personality that may resonate with a youthful audience.
Use people in your brand photos. The people you choose to use in your branding photography reveals a lot about your brand. For instance, your potential customers may see through this if you use stock images. Remember to use people to convey the feeling that your brand represents. It can be pretty straightforward. Photos of people at a day spa will depict relaxation, and images of a nightclub will show a different kind of energy altogether!
You are telling a brand story. You should use brand photography to illuminate your brand purpose. Think about how you want your audience to perceive your brand. How can you use photography to illustrate this best? Instead of using words, you should use images to tell them how your brand should be seen. You may choose to set up a storyboard with ideas of images that could work to tell your brand story.
Choose a reputable photographer that you trust. Whether using a personal branding photographer or something a bit more corporate, you shouldn't choose the first photographer that you come across. Spend a bit of time investigating photographers' portfolios until you find someone whose images resonate strongly with you. You will create something unique with the right professional photographer and a trusting working relationship.
See also: How to Choose a Branding Agency for your Startup
Invest in high-quality branding photography
We know that it can be challenging to hone in your brand photography – especially when you're starting a new business. However, there are many things you can look at to help you determine what kind of brand photography will work for your business.
To help set yourself up for success, some things to consider are: defining your brand goals, choosing the best content for your photos, deciding on a colour palette, and putting together a few guidelines. Don't forget that you can also use personal branding photography to give yourself a professional boost – not every image needs to feature workers in offices to evoke a trustworthy feeling.
When looking at brand photography, other things you may consider include, deciding on a brand narrative, choosing a trustworthy professional photographer, and composing your images perfectly.
If you need help improving your website's brand photography, give us a shout at BigToe creatives.