You might have heard the term 'personal brand' pop up on social media—especially on business-oriented sites like LinkedIn.
While it might seem like just another buzzword, personal branding can be a handy tool for growing your business. Essentially, it boils down to creating authentic relationships with members of your audience, which is always a good thing for a company to achieve.
Keep reading for more on what personal branding is and a few examples of personal branding done right.
Related read: An Introduction to Branding for your Business
What is personal branding?
The essence of personal branding comes down to taking ownership over how you present yourself to others—primarily online but also in real-life situations!
For example, you should build a personal brand that positions you as an expert, authority or leader within your niche or industry. Why should you do this? The goal is to build a community that further cements your leadership position in your chosen space. This activity can help you in many areas of your work or personal life by making more connections and building an authentic audience in your space.
Related read: Advantages of Branding & Why it's so Important
Where to start building a personal brand
To answer 'What is personal branding and how could I do this?', you'll need to choose a specific field to enter.
This field is often related to your career function, e.g. sales, marketing, operations, finance and more. Next, start sharing within this space to build a reputation for yourself.
A personal brand is also something that social media influencers have accomplished by being authentic to their audiences and being part of a specific 'ecosystem' in their space. For example, you'll find a lot of different influencers on Instagram. They typically fit into a 'category', including artists/creatives, fitness/health, food/cooking, lifestyle, motherhood/family-focused, and so many more.
Examples of personal branding done right
Of course, there are well-known influencers on any topic, from artist branding to entrepreneurs, authors, sales professionals, athletes, and many more.
Here are a few examples of who is doing personal branding right that might give you some inspiration.
Gary Vaynerchuk: Entrepreneurial personal branding 
Gary Vaynerchuk is a self-professed serial entrepreneur. He's the CEO of VaynerMedia, VeeFriends and VaynerNFT. Gary is well known for predicting future trends. He was an early investor in companies such as Uber, Facebook, Twitter, Snapchat and Coinbase. You could argue that he is a king of brand relevance, with over 5 million followers on LinkedIn. 
We think Gary is a great personal branding example as he's active on social media and shares targeted videos, podcast episodes and advice for business success with his audience. He even shares tips for building an audience—which he's done very well—and continues to emphasise his position as an entrepreneur and successful businessman.
What's important to note is that he has cultivated his narrative through his personal brand and is one of the best examples of personal branding relating to entrepreneurs and investors that we've found.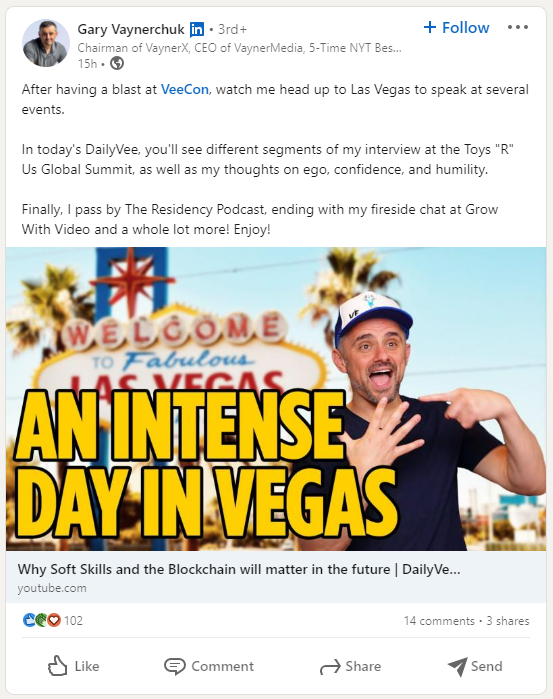 Neil Patel: Artist branding for digital marketers 
You probably already know whom I'm talking about if you work in digital marketing. Neil Patel's name is synonymous with marketing and SEO success—and his website is named after him. He's essentially turned his name into his personal brand. 
It works because he's involved in many marketing-focused businesses, such as analytics, web traffic software and lead generation services. He focuses on blogging and SEO and has found great success this way. Neil hosts webinars and posts in-depth articles and videos regularly, backed up by his experience. He also engages with his audience.
He is one of the best examples of personal branding for marketers. Neil has essentially turned his name into a successful digital media business while still providing immense value to his audience.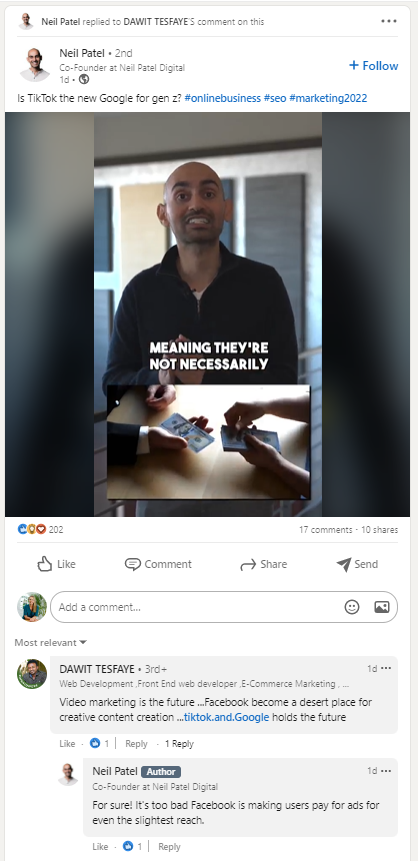 Amy Cuddy: Academic branding
Amy Cuddy is one of the best examples of personal branding for authors, academics and keynote speakers.
She's a former Harvard professor in Social Psychology. Still, more than that, she's a bestselling author and a renowned speaker and educator. While you may think education isn't an excellent fit for personal branding, you're far off!
Amy is a personal branding example that might seem unexpected. She has almost 900,000 followers on LinkedIn and regularly posts relevant articles about mental health, psychology, how to hone in on leadership skills, and so much more. What Amy does well is adding value to her posts.
First and foremost, she shares her opinion on a topic before asking her audience to take the desired action, such as listening to her on a webinar or buying her books. This communication method is an excellent strategy that many businesses might like to 'steal' and use for their audiences.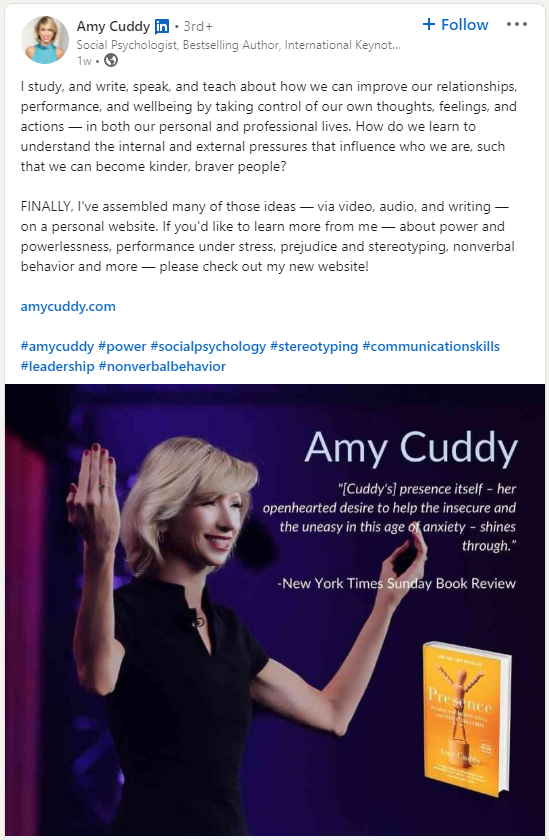 How can I build a personal brand?
Now that we've found a few great examples of personal branding, you'll want to know how you can build a personal brand for yourself, which your business can use.
Here are some critical steps to follow:
Create a personal profile. You can't create a great personal brand on a company account. After all, the goal is to grow and cultivate human connections and relationships. People will likely respond better to an individual versus an organisation. Later, you could even build a personal brand website dedicated to your position as a professional.
Choose an audience. For example, if you are in a creative field, you would want to focus on artist branding in your chosen discipline. Similarly, sales professionals would target those in their industry and job functions to resonate with their audience.
Do some research. Find examples of personal branding that you enjoy seeing or reading. LinkedIn, Google search, Instagram and even Facebook are great places to find personal brands. What are other people doing, and why do you like their content? You might find some inspiration and creativity by writing some notes down first.
Just start posting. We know that this is the most challenging step, but the truth is that you'll never gain an audience if you don't put any effort into sharing your content. While you may be worried about your posts at first, nobody will shoot you down at first, and you'll need to do some heavy lifting to get more eyeballs on your posts.
Don't be afraid to experiment. Rome wasn't built in a day. You may find that different topics or post types do better, so keep note of what's working and ditch posts that don't gain traction. You could become your own personal branding example by testing different content, post times, post types and platforms.
Keep up a professional image. You may need to spruce up your LinkedIn profile or website with new imagery or add a better bio about yourself for prospective followers to take you seriously. Create a narrative about yourself and ensure it resonates with your target audience! 
The best time to start building your personal brand is now
There are many great examples of personal branding in various industries. Now that we've answered 'What is personal branding?', hopefully, you have everything you need to start growing your own personal brand (and increasing your authority simultaneously!)
Good luck on your journey of creating a personal branding, whether you're doing artist branding, building a business-focused or personal brand, or just want to gain more authority.