There are many elements to keep track of when building or upgrading a website for your business. Things like page layout, fresh graphics, new typography, branding and maybe even a new domain name are common things to consider.
But, have you thought about your website's user experience (UX) design? The importance of UX design cannot be overstated. Your website user experience is what guides your users to do what you want them to—whether it's to buy your product, subscribe to your newsletter or book a demo call.
Here's why UX is so important for your website conversions—plus a few examples of UX done right.
Related read: Web Design 101: Covering the Basics
The importance of user experience
A good user experience can help your brand see greater engagement, build a stronger brand image, and potentially, a more significant return on investment.
A few other benefits that can show you the importance of UX design are:
You will spend less time on web development. A solid UX process will let your web developers spend less time endlessly reworking elements. Along with wasted time comes wasted money. IBM states that coding defects cost 30 times more money to correct than using the correct information in the first place. You'll also be able to release new products faster if you understand the importance of UX right from the start.
You may have more significant sales. Companies that invest in good user experience design typically see higher sales than those that don't. Even if you decide to make a few UX tweaks, a small investment can still improve sales figures. This growth is because customers can more easily find what they're looking for—independently navigating and completing transactions. 
You can see your return on investment. When analysing UX design, one of the biggest things to consider is how much money it will get you in return. Return on investment with UX is generally high due to lower customer acquisition costs, lower support costs, better customer retention and larger market share. 
You will improve brand loyalty. Studies show that customer experience is one of the most critical factors customers will see as product differentiators in the next few years. It also means that the most successful companies understand the importance of UX design and invest in it wisely. 
The benefits of good user experience design
Firstly, you can expect clarity of vision. Making UX design decisions early in the process can help you define your customer journey and meet your customers' needs during the process.
Secondly, another unexpected benefit of good user experience design is confidence. A promising strategy will give your customers confidence in your company and brand.
Thirdly, you may find that having a great design will reduce your support costs. If your website is easy to use and doesn't cause any friction with your audience, you could expect fewer support calls and queries. Generally, your customers should complete their transactions or navigation journey without help.
Finally, the last benefit is to reduce the number of steps your users need. The more steps your users need to take to access the critical information they're after, the higher the chance they will stop the process altogether and leave your website.
Related read: 8 Guidelines for Building a User-Friendly Website
Examples of companies that understand the importance of UX design
If you're looking for some guidance on what good UX design looks like, check out the below examples.
Airbnb
The Airbnb website and app is a great example of good UX design.
Something worth noting is that Airbnb has researched pain points immediately on the front page, offering destinations that aren't too far away whenever possible. It also provides unique experiences and accommodation types that more adventurous users may be interested in trying.
On each property, adequate information about amenities and rules are available to view before booking. Users should have a super clear idea about the kind of place they're renting before they arrive. Most good listings will have updated pictures, too – and it is effortless to contact a property host to discuss requirements.
Airbnb gives a good mix of options for a large audience. Booking a holiday with Airbnb is swift, straightforward and easy – which is a true example of the benefits of good user interface design!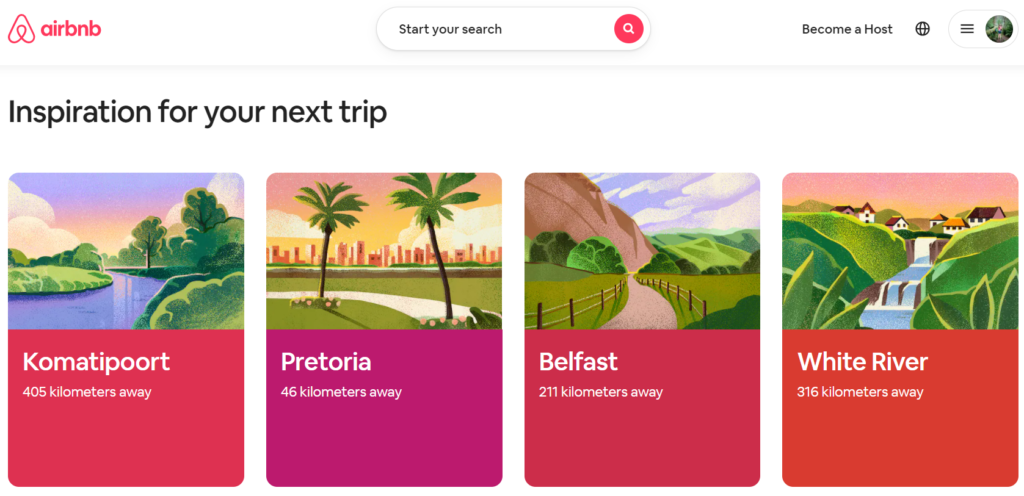 Netflix
We know that Netflix has stiffer competition than ever, thanks to the latest lockdowns worldwide. However, we should give Netflix credit for their vast understanding of the importance of UX design.
A pioneer in the television and movie streaming industry, Netflix has an autoplay feature designed to keep users interested and engaged. There is also an autoplay trailer feature that gives viewers a quick look at any title they want, helping them decide what to watch next.
Interestingly, some users did not like this – so Netflix made it easy to switch it off with a few clicks. This shows that they actively consider and implement feedback from their users.
Remember that adaptability is so important when working on your user experience! You never really know how customers might feel about a feature until it goes live. 
20@Mey
While not as well known as Netflix and Airbnb, we're proud of the next example because it's our work. 
20@Mey offers accommodation in Langebaan, located in the Western Cape of South Africa. We helped them develop a new logo and website to showcase their gorgeous property and paid attention to the user experience.
That's why we made availability front and centre and added various valuable features. Some practical things we included are multiple attractions in Langebaan, a showcase of the property and local services for guests.
We also built live weather tracking and added vital information about contacting the property managers. 
It's all about the experience
Internet users are inundated with options. If they don't have an enjoyable experience on your website, they won't hesitate to leave as there are plenty of other options available.
So, no matter what industry you're in, it's vital to understand the importance of UX design.
UX has become more prevalent than ever on laptops, computers, tablets and smartphones. So if you fall behind on the customer journey, you may miss out in more ways than one.
Whether you need a few tweaks or a brand new website, we'd love to help you out. At BigToe Creatives, we're experts in web design and branding, and we understand the importance of user experience. Let us know if we can help your business create a website that converts.